5 New Skate Shoes To Make You Stand Out in 2017
The spring is finally in sight, and it's time to get the skateboards and some new skate shoes ready for a new season. As it's likely time to shop around for some new gear, the question is, will you be going with the classic look or with something that will make you stand out? Luckily, the shoemakers have a wide array of options, just like they did for the past several years. Among the new skate shoes for the 2017 season there are quite a few that have that extra that will set you apart. Here's are our choices from what has been released so far for the new season:
DVS Militia Rasta Black Skate Shoes
This one has been a constant presence on the market but for 2017 DVS is giving it a new flavor by using the rasta combo- green, red and yellow stitching on the upper side. The DVS Militia Rasta skate shoes feature a sturdy nubuck upper with padded tongue and elastic lace closures that ensure a better fit. The shoe also has EVA cushioning while the rubber outsole is vulcanized, making it durable and optimal traction and grip. The Rasta theme has been a popular choice for many shoemakers over the years, and will go on with these new skate shoes in 2017 joined by others such as the ones from the Vans Rasta collection that we've looked at not long ago.
The DVS Militia Rasta skate shoe retails for $59.99 and is available for purchase at Journeys (with free shipping).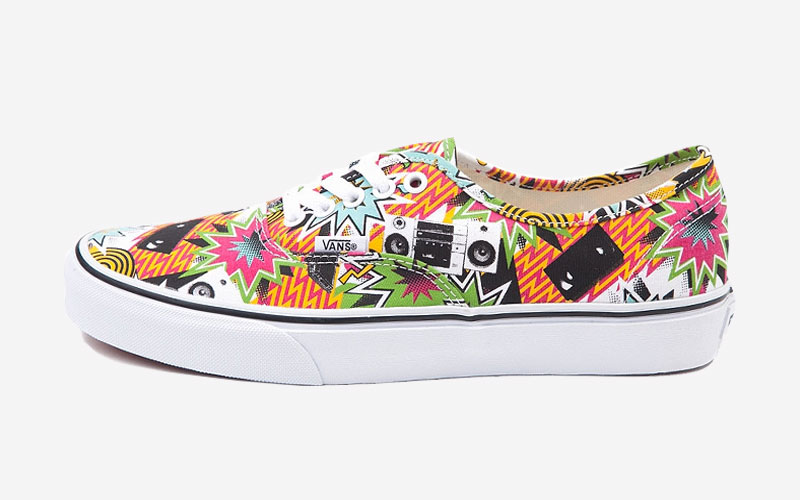 Vans Authentic Mixed Tape
Vans are known for their themed skate shoes and in 2017 it's likely that they have quite a few remarkable collections coming up. But for now we selected the Vans Authentic Mixed Tape skate shoe to be on our list. If you haven't heard about it yet, the cassette tapes have been making a comeback for the past few years, with artists such as Eminem or Blink182 releasing recently some for old versions of their albums. These new skate shoes from Vans feature a colorful design that brings back the 80's with boomboxes and even video tapes graphics.
The Vans Authentic Mixed Tape skate shoe retails for $59.99 and  it can be purchased at Journeys (with free shipping).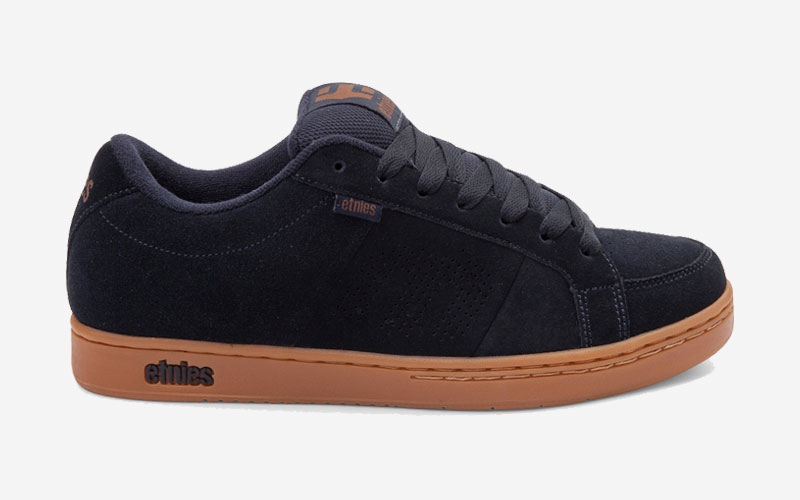 etnies Kingpin Skate Shoes
The etnies Kingpin skate shoes have been around for years, and many of you are already accustomed to see it on shelves. This navy and gum look, however is a new one that we haven't seen before. It gives it a bit of a retro vibe that goes great with the smooth suede upper. As you'd expect, the etnies Kingpin features a heavy padded tongue, solid lace closure, EVA midsole and a rubber outsole for durability and optimal grip on the skateboard. This is one of our favorite new skate shoes in 2017 that makes the list without any flashing graphics.
The etnies Kingpin skate shoes retail for $59.99 and you can buy them at Journeys (free shipping).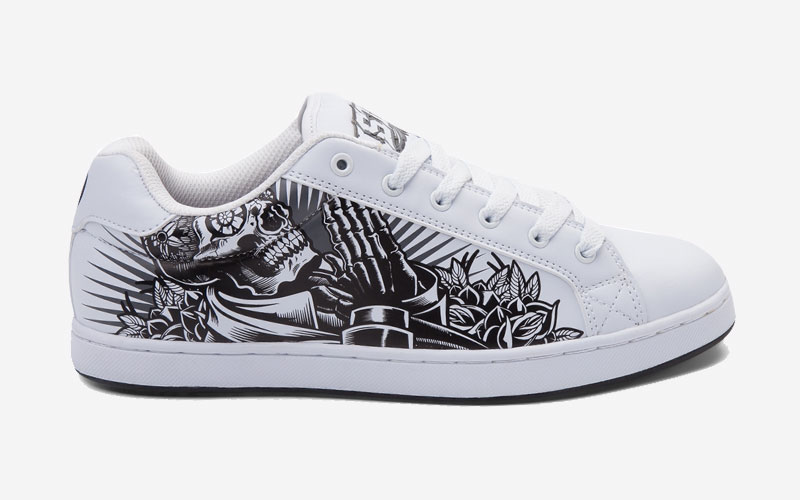 Osiris Troma Redux Maxx242 Skate Shoes
Osiris is bringing back this year one of their most successful collaboration with the Maxx242 studios. The Osiris Troma Redux Maxx242 has on display the praying deadman graphics in black on an all white background. The black version of this shoe was released last year and now this version is making a comeback per popular demand. Ok, so this may not be quite a new sneaker for 2017 but it makes the list as it's clearly one of the most one of the kind out there. Aside of the graphics you get a solid skate shoe with a smooth leather upper and a durable rubber sole.
The Osiris Troma Redux Maxx242 retails for $59.99 and you can purchase it at Journeys (free shipping).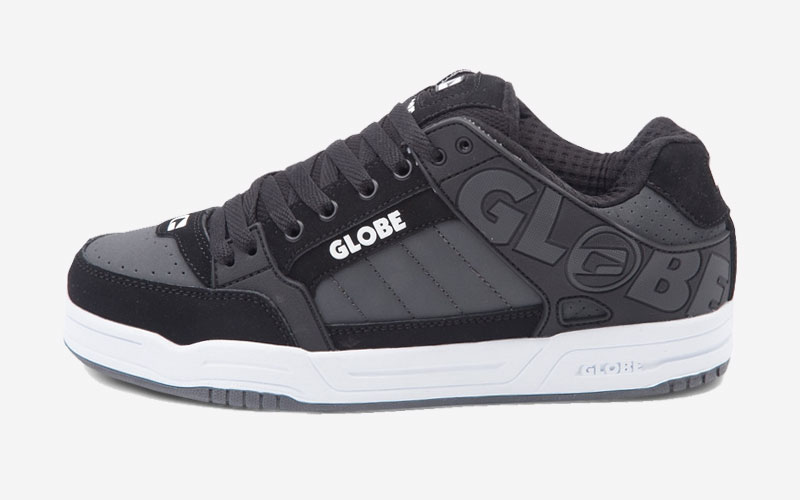 Globe Tilt Skate Shoes
The last shoe on our list is the Globe Tilt skate shoe, a style that has been around for a while but there are a couple of new colorways worth noting; a predominantly black and a gray one. This shoe makes the list mainly for its graphics, a characteristic of Globe shoes, with bold lettering all over the heeltab and along the lacing system. This version features a combination of mesh and leather upper, giving it a sophisticated look. And quality does not disappoint, as we've got used with the products from this brand.
The Globe Tilt skate shoes retail for $64.99 and you can grab a pair at Journeys (with free shipping of course).
So this is our list of new skate shoes in 2017 that stand out from the crowd. It's just the beginning of the year so for sure there will be many more released throughout the year. Let us know what you think, let us know which one is your favorite or what we missed.