When you click on links to various merchants on this site and make a purchase, this can result in this site earning a commission. Affiliate programs and affiliations include, but are not limited to, the eBay Partner Network.
The advent of sneakers over 100 years ago has turned out to be a major influence on culture and fashion. It is no surprise, therefore, that the rise of pop music has led to a number of music and sneakers collaborations over the years. Overtime, the practice has become more than just a marketing tactic, with many of these collaborations turning out to be iconic footwear that are must-haves for sneaker aficionados.
While the sneakers and music partnerships have started a trend all on their own, some have stood out from the growing list. Here are some of the best music sneakers collaborations of all time:
Kanye West & Luis Vuitton
Top rapper meets top luxury line in this 2009 collaboration. The result is a line of luxury sneakers like no other, with well made, unique kicks that are not only a sight for sore eyes but also comfy and durable. Since their release, the fashion pieces have gone on to become collector's items; reportedly being sold for as much as $20,000 dollars.
Featuring detailed workmanship and premium materials, the shoes are available in three distinct models: the Don, the Jasper, and the Mr. Hudson. Respectively, they represent mid-cut, high-top and boat shoe versions, and are available in 10 different colorways, making the line highly versatile and fashion-forward.
Nike & Eminem
When Eminem burst onto the scene with his unique rap flow, he changed the rap game, so it is no surprise that he would eventually collaborate with a game-changing shoe company such as Nike, which is also behind the one-of-a-kind Air Jordan line. Rated as one of the best lyricists in his genre, the rapper collaborated with Nike on several shoe designs, beginning in 2003. Among the most notable of the resulting limited edition line include:
Nike Air Max Burst ("Shady Burst"): This came out in 2003 as part of a larger artiste collection that included Pharrell/Nike kicks. They are pretty simple shoes with clean lines but have Nike running technology built in and unique design details that sets them apart.
Air Jordan Retro II ("The Way I Am"): Said to be Em's favorite Air Jordan, this sneaker was a masterpiece in more ways than one. It was special in that it commemorated Slim Shady's autobiography and, as a result, had his lyrics scribbled all over the lower front panel of the shoe and its ankle collar.
Air Jordan IV Eminem ("Encore"): Possibly one of the most sought-after Air Jordans, only 50 pairs of this shoe was made back in 2005. They feature an eye-catching blue nubuck upper and grey detailing, which give them an edge of distinction among other AJ IV retro sneakers.
Kanye West & Adidas
Like his initial signature line with Nike, Kanye's first collaboration with Adidas is also known as the "Yeezy." Launched in 2015, the collection has been a resounding success so far. In fact, the Yeezy Boost 350 reportedly sold out immediately after it was released in August, prompting the 'three-stripes' company to get back to producing another batch to be released in the latter part of the year. It has also seen lucky buyers reselling the hot kicks for hundreds of dollars more on eBay.
The Yeezy is built with Adidas breakthrough Primeknit material, which fits like a second skin, and has a rugged looking outsole that gives it an edge. Its range of abstract colorways also adds to its uniqueness, making the Kanye West/Adidas collaboration one of the most in-demand sneakers in recent times.
Pharrell Williams & Adidas
2015 marked all of three collaborations between music superstar, Pharrell Williams, and the 'three-stripes' Originals series, all of which surrounded the ubiquitous adidas Superstar. First was the Superstar Supercolor collection, which saw the Adidas classic being remodeled in 50 different colorways. Next was the Superstar Supershell, which saw the 'shell toe' component being updated with graphically-appealing artistic impressions from four talented international artists. The shoes were made in black and white to allow the artworks to stand out.
Pharrell's final collaboration with Adidas for the year involved a new take on the Supershell. They were further stylized into a Sculpted line, with the 'shell toe' having enhanced 3-D designs on them. Again, they were only made in black and white colorways to allow the artwork to really stand out.
Drake & Jordan
After sporting what some thought were fake Jordans, Drake subsequently became an ambassador of the brand when he collaborated with Nike in 2014. The partnership didn't waste time in serving up a few limited edition Air Jordan 10s and 12s, most of which were given to Drake's people.
Labeled Air Jordan OVOs (October's Very Own), the shoes were made in classic black and white with the well-known sting ray leather design. They also featured Drake's own Owl logo stamped onto the insole and Michael Jordan's signature Jumpman symbol.
Run DMC & Adidas

Run DMC's association with Adidas began long before money became involved. That's because the rap group endorsed the brand throughout their music career, whether they were writing lyrics or touring. In fact, the rap group popularized Adidas wear on the streets and was possibly the first time that a musical act had impacted fashion culture in such a major way.
With the streets rocking Adidas and to the lyrics of "My Adidas", which was a big hit from Run-DMC's Raising Hell album, it was only a matter of time before the German brand took notice. The Superstar was the sneaker of choice for the rap group and became the base for the Run-DMC line. The shoe, with its well-known silhouette and 'shell toe' went on to become one of the top-selling sneakers in history, impacting cultures and fashion choices along the way. This was also one of the nest adidas Superstar special editions ever made.
Adidas & Big Sean
Hip Hop sensation, Big Sean, began his association with Adidas in 2012 with the adidas Originals Pro Model project. The limited edition sneaker was a smash hit, with the all-red Pro Model being the most sought after of the collection. It featured snakeskin patterned leather, suede patches, stunning gold accents, and snippets of Big Sean's lyrics.
The following year saw a follow-up in the likes of the Pro Model II, this time in all black, which was just as stunning and in-demand as the first release. With the artist putting out his Hall of Fame album in tandem with the release of his Pro Model II, the shoe proved to be a big hit once more.
Vans & Bad Brains

Around since 1977, Bad Brains has developed a signature style that has influenced other hardcore punk rock artistes that followed. Infusing punk rock, reggae and jazz, the group eventually landed a shoe line with Van's which was as colorful as their music style. The line was built around the Vans Sk8-Hi model and was available in several vibrant colors. The standout symbol of the limited edition collaboration is a yellow lightning strike gracing the tongue of the shoe, with an all-black version having the symbol across the ankles.
De La Soul & Nike
Vintage rap group, De La Soul, got their very own Nike Dunks back in 2005, with high and low editions of the iconic sneaker. Then, the group was hailed for their influence on the skating community and so, the resulting Nike Dunk High was marketed to that 'cool' market segment.
10 years later, the De La Soul Nike Dunk Highs were re-released in a commemorative limited edition project. This time, the sneakers featured all-white silhouettes with, artwork from their celebrated album, 3 Feet and Rising, adding a fresh look to the uppers.
Kanye West & Nike
As far as signature shoes go, Kanye West's Yeezy I and II are right up there with the best. With the first collection coming out in 2009, sneaker lovers everywhere quickly snapped up the kicks that came in three unique colorways, Black/Pink, Zen and Net. They were particularly hailed for their bold design and eye-catching aesthetics.
Three years later, the Yeezy II caused a similar stir, with a more futuristic, technologically-advanced design. The shoe had a rugged exterior, from the spiked back to the anaconda textured leather panels and chunky lockdown strap. Available in platinum and black colorways, the sneaker quickly became another collectors' item.
Pharrell Williams & Nike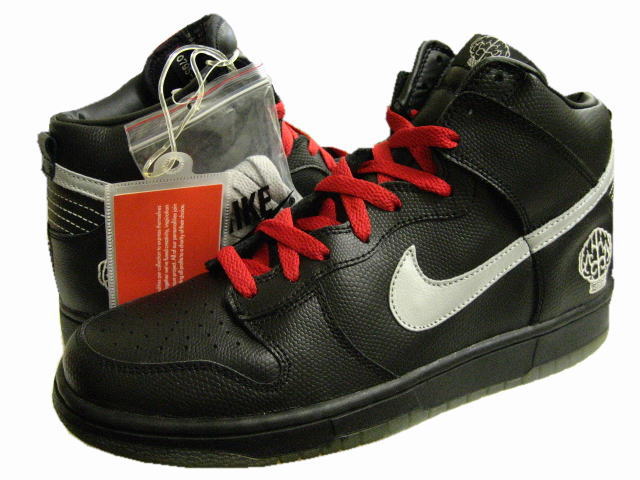 In 2005, Pharrell was among the top rated producers and hip hop artists around, so a collab with the number 1 shoe company in the world was quite in order. The partnership resulted in the creation of the Nike Dunk High, a silhouette that was simple but loud at the same time as a result of its bright red laces.
Making up Nike's Artistes series at the time, the sneaker featured an all-black leather upper, a transparent rubber bottom, grey Nike Swoosh and Pharrell's very own logo attached to the heel to provide his personal touch to the limited edition. It has also become a collectors' item.