In a quite unexpected move the Air Jordan XXXI was announced this week, only months away from its predecessor. The exact reason why Jordan brand followed up so quickly with  this new version is unclear, we can only speculate at this point. It is a very rare event to have to different editions in this series released in the same year but no one complained yet. The Air Jordan XXX took some time to catch on, with many retro sneakerheads not being happy at all with its futuristic design. Nike mentioned in their announcement this week that the design process for this pair started over a year ago, the designer being this time Tate Kuerbis, the same one who mastered the Air Jordan XVIII and  XIX.
The Air Jordan XXXI brings back the retro vibe of the first shoes of the Air Jordan series  with a modern design that tastefully blends the past and future. The first thing to be noticed is the presence on the shoes of the Jumpman, Swoosh and also the traditional Air Jordan "Wings" logos, in an effort to celebrate over 30 years of history. Already many are not thrilled with the overbranding but as always they can't make everyone happy. Most likely this edition will be unique in this sense, thus more reasons to be wanted.
The upper or the Air Jordan XXXI is made of both Flyweave material and leather that blend in an unique way, creating an interesting transition effect. It is a feature that only a brand like Nike could've pulled off, the result being a high quality upper designed to offer support but also offer an optimal fit. As with the last editions, Flywire technology is featured, locking the foot in place while providing lateral support.
The sole of this Air Jordan XXXI is made of three layers with distinctive colors, adding an elegant design element that is also a first for the series. The midsole is traditional foam while the shoe is equipped with Flightspeed and Zoom technologies, working like a bag of air under a full-sole length metal shank. The herringbone-patterned outsole is translucent, a traditional Air Jordan feature that leaves open the possibilities for various graphics to be seen from  the inside of the sole. For the first edition of the Air Jordan XXXI the word "Banned" is written across the outsole, a reference to the infamous Air Jordan 1 in Chicago Bulls colors that Michael Jordan got fined for.
The Air Jordan XXXI "Banned" will retail for $185 and is scheduled to drop in September 3rd. An "Olympic" edition is expected to be worn by some of the Team USA members in Rio while another blue and green edition is expected to be released soon as well.
Tate Kuerbis' Design Sketches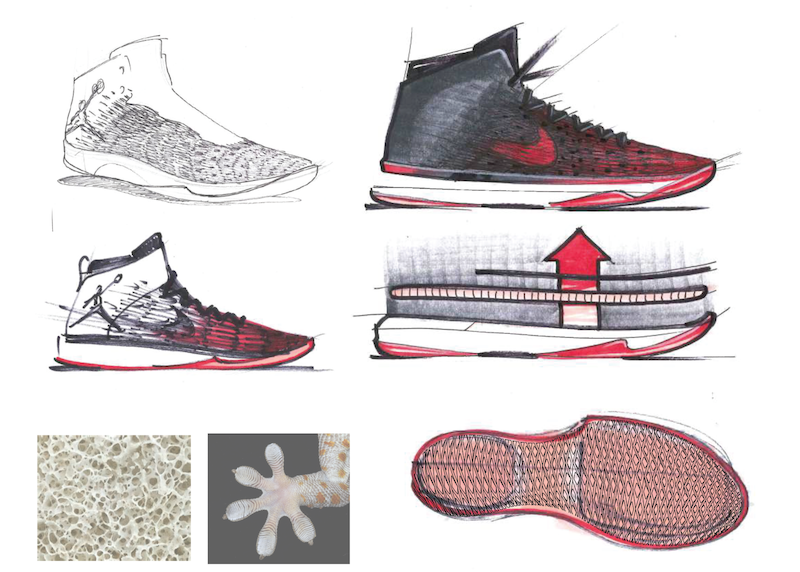 See All Available Now On eBay
Share This Story, Choose Your Platform!