When you click on links to various merchants on this site and make a purchase, this can result in this site earning a commission. Affiliate programs and affiliations include, but are not limited to, the eBay Partner Network.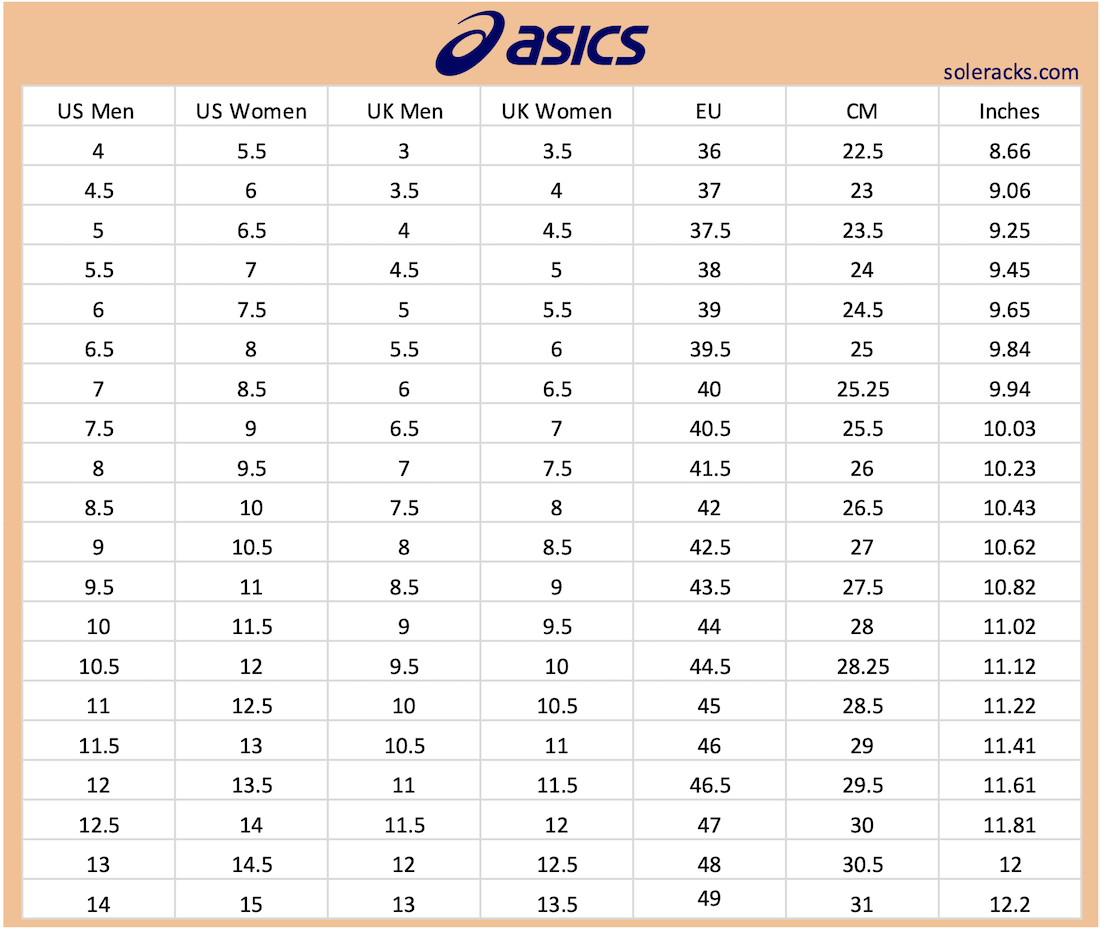 Are Asics true to size?
In the world of ASICS sneakers, a common trait is their snug fit, and this characteristic extends to models like the Asics Gel-Lyte III, which notably features a narrow toe cap. To ensure your utmost comfort when wearing these sneakers, it's advisable to consider sizing up by half a size from your regular measurement. This slight adjustment allows for extra room in the toe area, preventing any potential discomfort or constriction, particularly if you have wider feet or prefer a more relaxed fit. By going up half a size, you can strike the perfect balance between style and comfort, ensuring that your ASICS Gel-Lyte III sneakers feel just as good as they look, whether you're strolling through the streets or hitting the pavement for a run.
How do Asics shoes fit?
Determining the right fit for Asics shoes is crucial to ensuring optimal comfort during your runs or walks. Asics generally adhere to a true-to-size standard, which means consulting the brand's size chart is a reliable way to gauge your fit accurately. For individuals with average foot length and width, Asics shoes tend to mold snugly like a glove, delivering a comfortable and secure feel.
However, it's important to acknowledge that Asics may run smaller for some individuals, a factor often linked to the unique structures of people's feet. Therefore, selecting the correct size becomes essential to achieve that ideal fit across the midfoot, heel pocket, and toe box. This precision in sizing ensures a comfortable and supportive experience while walking or running, allowing you to maximize your performance without sacrificing comfort.
Asics Vs. Nike Sizing 
When it comes to sizing, the comparison between ASICS and Nike sneakers reveals some noteworthy differences. Asics trainers are generally known to have a snugger fit compared to Nike's offerings. Therefore, if you're transitioning from Nike to Asics, it's advisable to opt for a half-size larger than your typical Nike size. This adjustment ensures a comfortable fit that doesn't feel overly constricting.
Asics Vs. Adidas Sizing 
When it comes to sizing, the comparison between ASICS and Adidas sneakers reveals a striking similarity. It is generally recommended to consider going half a size up when shopping for footwear from both of these renowned brands, indicating that their measurements align closely. While there may be some exceptions based on individual silhouette designs, the overall consensus in the world of Asics and Adidas is that they tend to have similar sizing standards.
Asics vs New Balance  Sizing 
When comparing the sizing of Asics and New Balance sneakers, a noticeable difference emerges. New Balance silhouettes are recognized for their wider toe boxes, making them a favorable choice for individuals with broader feet. In contrast, Asics shoes tend to offer a snugger fit in comparison to New Balance models. If you happen to have wider feet, the snugness of Asics may not be the most comfortable option for you, and it's advisable to consider sizing up to ensure a more accommodating fit.
This distinct characteristic sets these two brands apart when it comes to fit and comfort. While Asics excel in providing a snug and secure feel, New Balance caters to those seeking a roomier toe box and enhanced width. When selecting between Asics and New Balance, understanding your foot shape and preferences is key to finding the perfect fit for your active lifestyle.
Asics vs Brooks Sizing 
The primary distinction between Brooks and ASICS running shoes lies in their fit. Brooks shoes are known for their wider toe boxes, making them ideal for those with wide feet or specific foot conditions. ASICS, on the other hand, tend to run narrower, providing a snugger fit. ASICS incorporates features like an external heel "clutch" and GEL cushioning for added support and natural foot movement. Both brands offer online fit finders to help runners choose the best-fitting and comfortable shoes based on their unique foot characteristics and running needs.
Conclusion
In conclusion, understanding the intricacies of Asics shoe sizing is key to finding the perfect fit that complements your unique foot shape and supports your athletic pursuits. Asics' commitment to precision in sizing ensures that whether you're a seasoned runner, a fitness enthusiast, or simply in search of comfortable everyday footwear, there's a pair of Asics shoes that will match your needs. Remember to consult the brand's size chart, consider specific model variations, and, when necessary, explore expert advice to make the most informed choice. With the right fit, you'll not only experience the utmost comfort but also optimize your performance, step by step, mile by mile.