When you click on links to various merchants on this site and make a purchase, this can result in this site earning a commission. Affiliate programs and affiliations include, but are not limited to, the eBay Partner Network.
10. Adidas NMD R1 AI Camo Olive Cargo
Style #CQ1864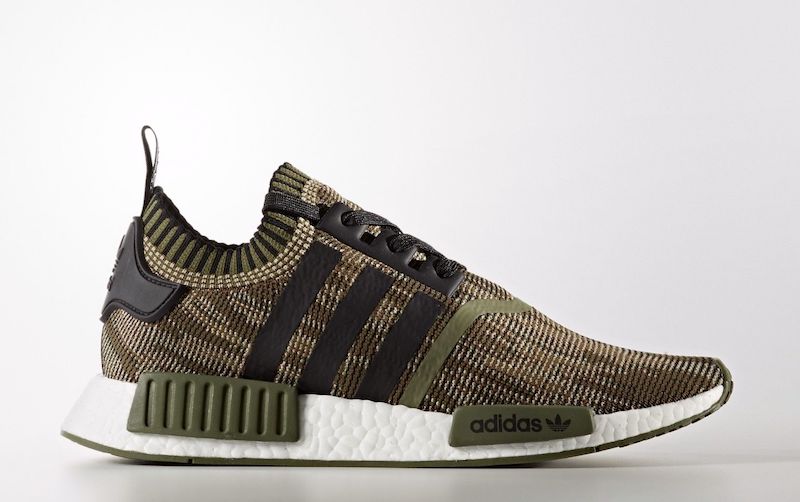 The Adidas NMD R1 Camo saw the release of new colorways under the AI Camo Pack in October 2017. One of the most prominent colorways of the new lot was the Olive Cargo. The olive green, Primeknit upper is infused with patches of brown to provide a truly camouflage effect over a solid white midsole. Olive accents via the midsole pads, as well as black detailing for the back tab and the Three Stripes logo complete the look for this limited edition sneaker, which saw only 900 pairs being made, and promptly sold out. Resellers now offer the Adidas NMD R1 AI Camo Olive Cargo at several hundred dollars above the $170 introductory price.
9. adidas NMD R1 Camo
Style# CQ1862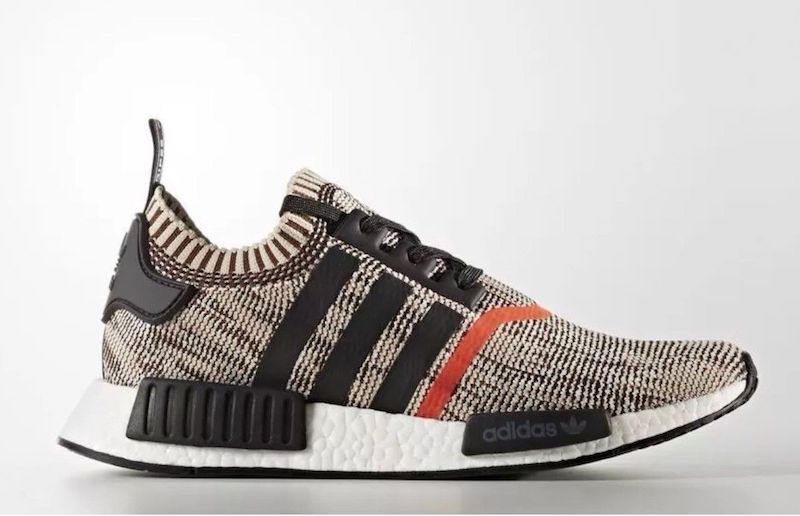 The adidas NMD R1 Camo consisted of several camouflage colorways, including such hits as the Core Black and Black Orange. In late 2017, the line was revitalized with the limited-release (only 900 pairs made per colorway) AI Camo pack, comprised of tan, black, olive, and red, and a MSRP of $170. Like their predecessors, the new camouflaged colorways are built on Primeknitted, sock-like uppers, BOOST midsoles, and Three Stripes branding on the upper, heel tab, and front midsole panel.
8. adidas NMD R1 NYC Red Apple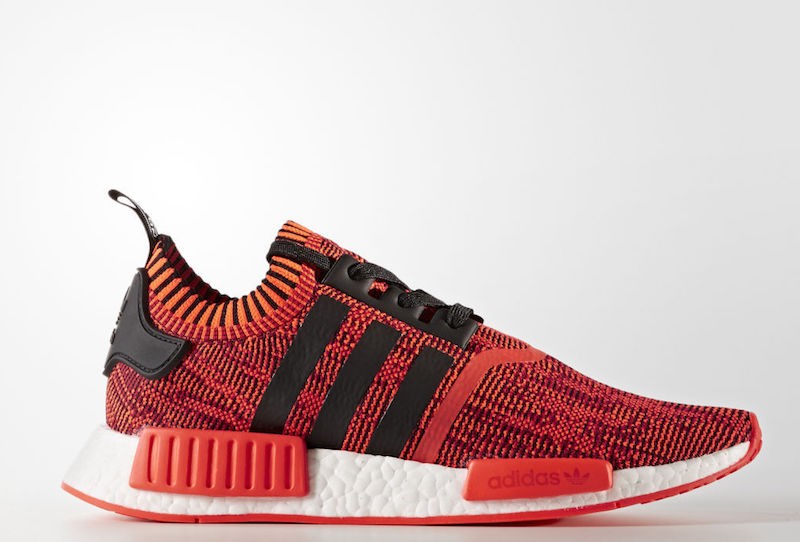 When the adidas NMD R1 NYC Red Apple was first released in August 2016, the shoe quickly set NYC alight with its bright red, Primeknit upper and bold styling. Only 200 pairs were reportedly made, in celebration of the opening of Adidas' new flagship store in the Big Apple. The trademark sock-like fitting sneaker, bolstered by black detailing on the back tab, white midsole panels, and a heel tab with Adidas branding, was limited to New Yorkers via the new store. Such limited edition resulted in aftermarket retailers asking upwards of $2,000 per pair. In summer 2017, a new version, the Adidas NMD R1 NYC Red Apple 2.0, was announced, with new details, including the Three Stripes in black (instead of red on red) and red panels along the midsoles replacing the original white.
7. adidas NMD R1 "Glitch Camo"
Style: S79478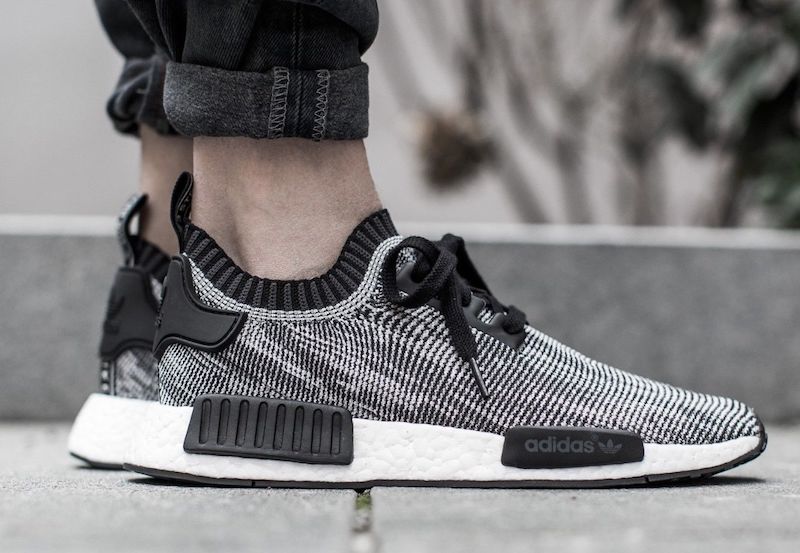 As the name suggests, the Glitch Camo is an extension of the NMD R1 line of adidas sneakers with a Primeknit sock-like upper, BOOST midsole, and traditional Three Stripes branding. What sets the Glitch apart is its clean, neutral shading. With the Glitch Camo Core Black making a splash in February 2017, a new version was released in November 2017, offering a more refined colorway, combining grey, black, and white in the Primeknit. Black details on the heel and grey panels, aside the white midsole and black rubber outsole, complete the look of this all-new Glitch Camo colorway. The shoe was released at a price of $170.
6.
 

adidas Consortium x Nice Kicks NMD 

Style  AQ4791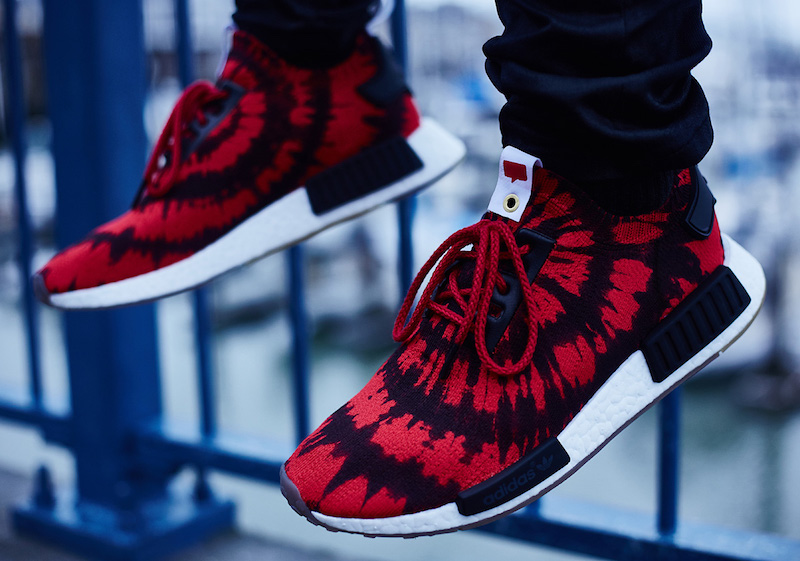 Adidas collaborated with Nice Kicks, in commemoration of the opening of the retailer's new store in San Francisco. The resulting product, the Adidas Consortium x Nice Kicks NMD, turned out to be one of the most eye-catching pieces of footwear from the NMD line. Launched in February 2016, the sneaker features a Primeknit upper splashed with a fiery, black + red tie-dye design that is said to draw inspiration from vintage concert posters and artwork. The exclusive sneaker also comes with a full-length BOOST midsole, Adidas detailing on the side bumper pads, and Nick Kicks branding on the heel tab and tongue. The Adidas Consortium x Nice Kicks NMD, when released, was available for the MSRP of $170. Nowadays, aftermarket retailers charge $400 and up on sites such as eBay if you want to get your hands on a pair.
5 adidas NMD R1 OG
S79168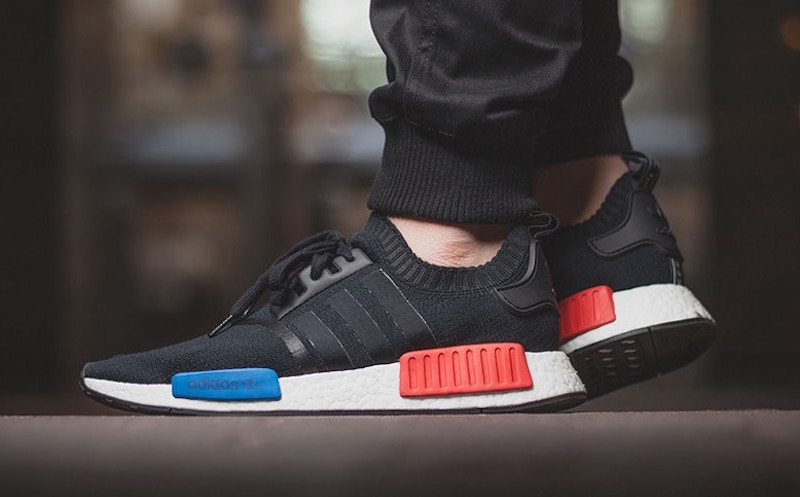 First released in 2015, the original NMD R1 sprung back to life with a re-release in January 2017. This classic kick is inspired by the Micro Pacer, Rising Star, and Boston Super, indicated by its bright royal blue and red overlaying pods bumping up the BOOST midsole. Featuring a trademark Primeknit upper with soft ankle wrap for a sock-like fit, the core black colorway slays. It is completed by an internationally-branded heel tab and accentuated by the pure white midsole which completes the color-blocking pods really well. The Adidas NMD R1 OG retails for $170.
4. adidas NMD R1 Japan Triple Black
BZ0220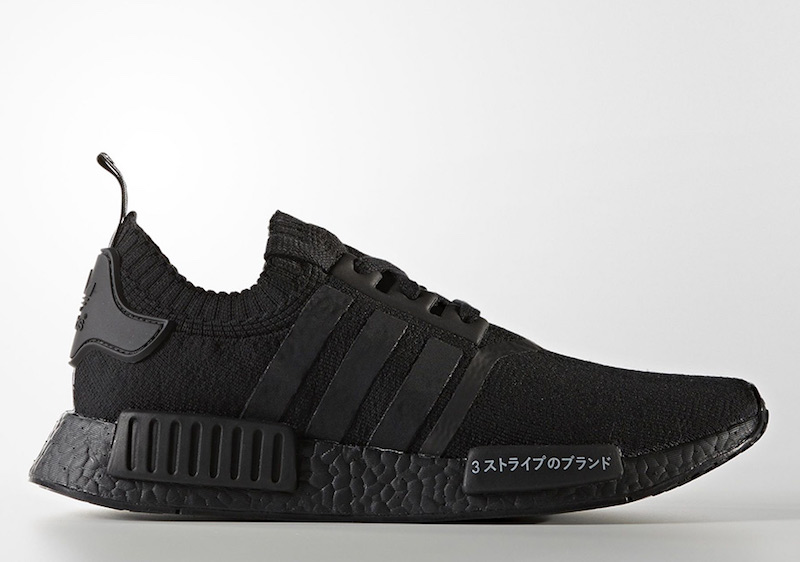 Following the success of the Tri-Color, the NMD R1 Triple Black was released in August 2017, uniquely made with a full black-on-black design and alongside its Triple White colorway counterpart. The Triple Black features a knitted upper with ankle socks wrap and traditional Three Stripes, in addition to signature, black EVA overlaying pods on the midsole, one of which has Japanese detailing, and a similar, inscribed heel tab as the Tri-Color. The Adidas NMD R1 Triple Black currently retails for $170.
3 adidas NMD Primeknit Tri-Color
BB2887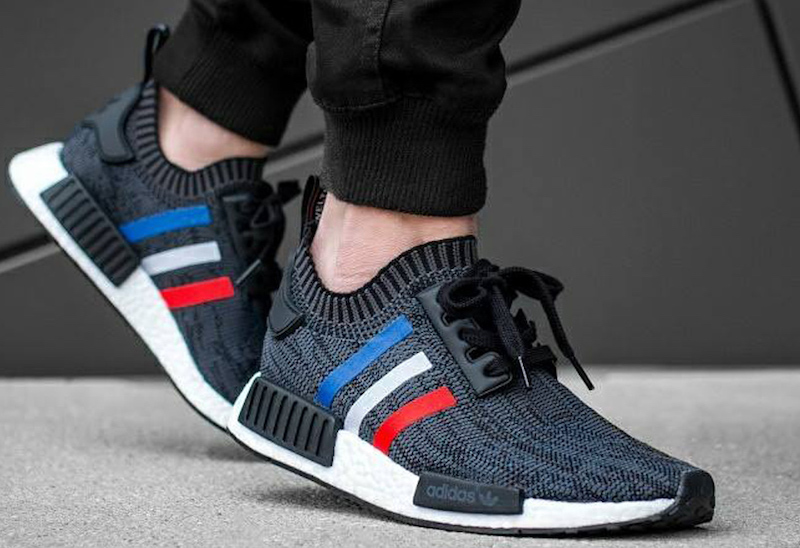 Released in early December 2016, with a re-release later that month, the Adidas NMD R1 Primeknit Tri-Color stands out due to its unusual, red, blue, and white stripes. Its knitted upper and sock-like ankle warp, along with BOOST tech in the midsole, are further offset with a heel tab that reads "The brand with the three stripes." Available in two colorways, the most in-demand has been the core black (style code BB2887). MSRP is currently $170.
2 adidas NMD R1 HENDER SCHEME
CI9814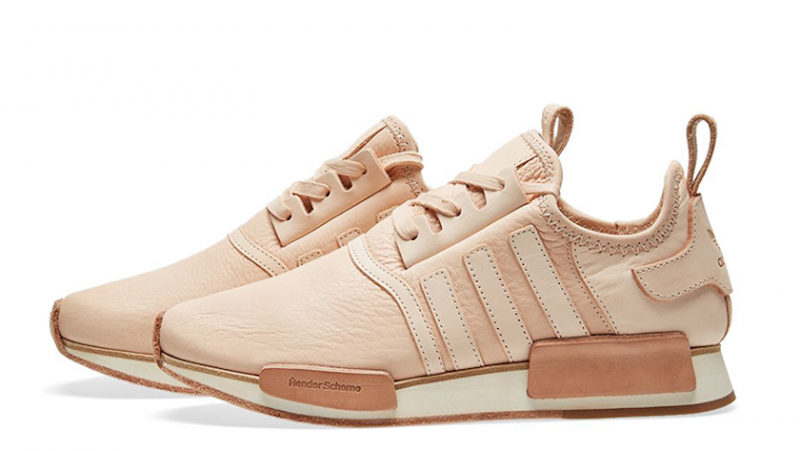 Hender Scheme's fresh take on the original NMD R1 saw the shoe losing its BOOST tech but receiving a glammed up look in plush tan leather. The luxury sneaker is completely handmade, like many other shoes recreated by Hender Scheme, and has beautiful designer touches that make it very beautiful to look at. It was released in September 2017, with only 900 pairs made. Designed exclusively for the high-end market, getting your hands on one of these will cost $1,000.
1 BAPE x adidas NMD R1
BA7326
BA7325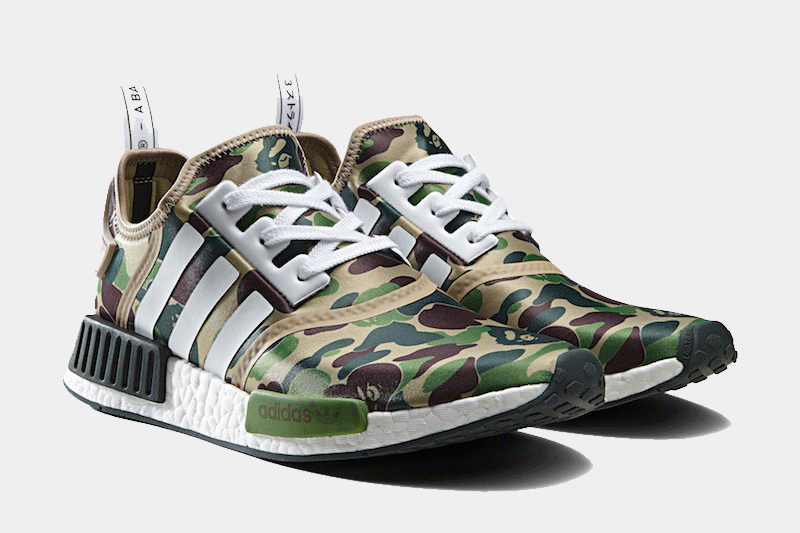 When Japanese streetwear brand, A Bathing Ape, collaborated with Adidas, one of the most recognized sneaker makers in the world, they were definitely onto something. The resulting BAPE x Adidas NMD R1, introduced in July 2016, has turned out to be one of the most sought after. The limited edition sneaker, made with BOOST technology in the midsole, was officially released in November 2016 at an MSRP of $150 and quickly sold out. It was released in two colorways, with the woodland camouflage being the most popular, while the black camo has held its own. Today, these sneakers are so rare, getting your hands on a pair is only available via aftermarket resellers such as eBay, and can easily set you back $800 or more.
---