When you click on links to various merchants on this site and make a purchase, this can result in this site earning a commission. Affiliate programs and affiliations include, but are not limited to, the eBay Partner Network.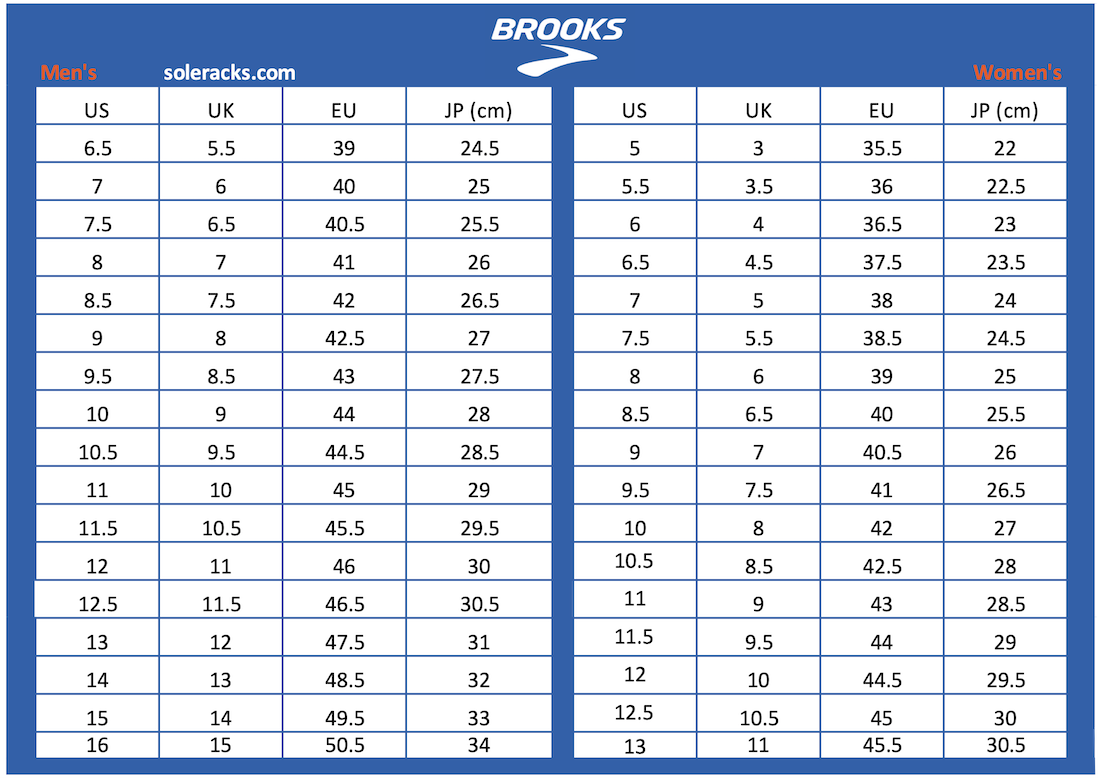 How Do Brooks Shoes Fit?
Brooks shoes are occasionally noted to run slightly shorter compared to certain other brands, a key consideration during fitting. When selecting running shoes, it's often recommended to opt for a larger size, allowing ample room for your feet to expand comfortably during activity. Moreover, shopping for running shoes in the late afternoon or early evening is a helpful tip. This timing accounts for potential foot swelling, ensuring a well-suited fit, especially crucial for long-distance running. So, for an optimal fit, remember both Brooks' sizing tendencies and the ideal shopping time to enjoy a snug yet accommodating experience.
Do Books Fit True To Size?
Brooks acknowledges on their website that their shoes typically fit slightly shorter compared to other brands. To optimize the fit, they recommend ordering their running shoes 1/2 size to one size larger than your casual or dress shoe size. This adjustment accounts for the differences in sizing standards across brands. Additionally, they suggest getting fitted when trying new models or versions, especially since other brands may also have variations in sizing. This proactive approach ensures that you find the best fit for your feet, prioritizing comfort and performance when selecting Brooks running shoes.
Brooks vs Nike Sizing
Brooks and Nike, the nation's top two running shoe brands, invite comparisons, especially regarding fit. Brooks shoes are notably more accommodating than Nike's. Nike has a reputation for running shorter and featuring a narrow toe box, less suitable for those with wider feet.
The most prominent distinction between Brooks and Nike running shoes lies in their overall fit. Brooks prioritizes a wider toe box, ideal for accommodating natural foot splay while running, making them a preferred choice for wide-footed individuals, bunions, metatarsalgia, or square forefeet. Additionally, Brooks offers a range of models in both wide and standard widths for both men and women.
On the other hand, Nike running shoes are known for their snug and narrow fit, especially in the midfoot and heel areas, with a cramped toe box. A direct comparison between the same-sized and styled shoes from these brands results in a notably tighter fit in Nike's case.
Brooks vs Hoka Sizing
When comparing the sizing of Hoka and Brooks running shoes, it's important to note some gender-specific differences.
In men's sizes, Hokas are typically available in the range of 7 to 14, which aligns closely with Brooks' offerings and fit.
However, it's noteworthy that when it comes to women's sizes, Hokas tend to run half a size larger than Brooks.
For example, if you're considering women's sizes, a common practice at many shoe stores is to recommend women select a half size smaller in Hoka compared to their usual Brooks size. Conversely, in men's sizes, both Hoka and Brooks usually match up more closely.
Additionally, when it comes to width, Brooks offers various options, including wider widths for those who need extra room, while Hoka's fit may feel narrower, especially around the inner arch, which can be important for those with wider feet.
Brooks vs ASICS Sizing
If you are transitioning from ASICS to Brooks, you may need to size up from your ASICS size, especially if you have a wider foot or specific foot conditions like bunions or metatarsalgia. Brooks often suggests ordering their running shoes a half size to one size larger than what you wear in casual or dress shoes. However, the exact size adjustment can vary depending on your foot shape and personal comfort preferences. It's advisable to try on both brands in-store or consult the sizing charts provided by the manufacturers for guidance.
ASICS tends to run narrow, so if you are switching from Brooks to ASICS, you may find that you can stick with your usual size. However, if you have particularly wide feet or prefer a roomier fit, you might still consider going up half a size for ASICS, especially if you've been comfortable with that sizing adjustment in other shoe brands.
Brooks vs Adidas Sizing
If you're considering purchasing a pair of Brooks shoes while already owning a pair of Adidas, sizing might require a slight adjustment. Adidas shoes generally fit a bit narrower than Brooks. So, if your Adidas pair fits comfortably and you have a narrow foot, you might find that going with the same size for Brooks works well. However, it's essential to be cautious not to choose a size that's too small, especially during hot weather or for long-distance runs when your feet can swell. Trying on the Brooks pair and comparing the fit to your Adidas shoes in-store is recommended to ensure the right size for your comfort.
Do Brooks shoes run wide or narrow?
Brooks shoes are generally known for providing a slightly wider fit compared to many other brands. They often feature a roomier toe box, making them a favorable choice for individuals with wider feet, bunions, or those who prefer a more spacious and accommodating fit. However, it's essential to note that Brooks offers various width options, including narrow, regular (medium), wide, and extra-wide, ensuring a range of choices to suit different foot shapes and sizes. So, while Brooks tends to run wider than some brands, they also offer options for those with narrower feet.