When you click on links to various merchants on this site and make a purchase, this can result in this site earning a commission. Affiliate programs and affiliations include, but are not limited to, the eBay Partner Network.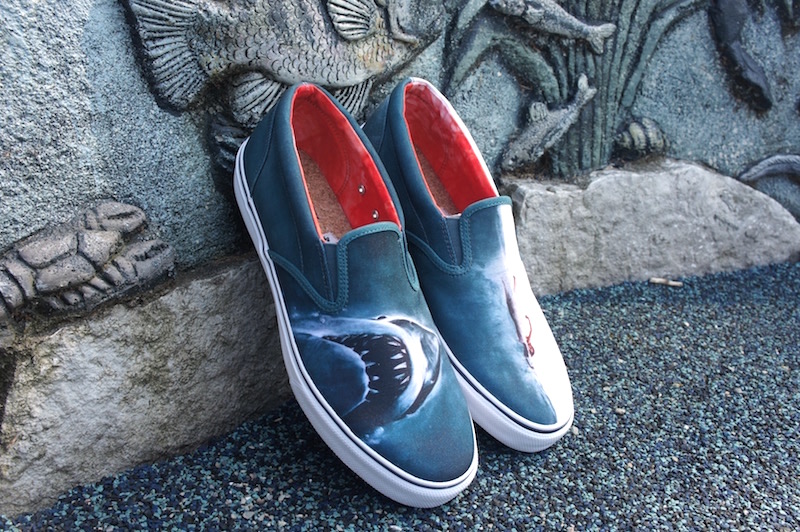 Just in time for the summer season the Sperry x Jaws shoes collection dropped this month, a true delight for the fans of the classic 1975 blockbuster. Giving the fact that some characters of the movie, like Robert Shawn's Quint character worn Sperry Top Sider shoes the collaboration between the two comes as a logical move. Also, with Sperry Top Sider being one of the top summer shoes producer, they are quite in sync with the general setup of the original movie.
This is a rare collection from Sperry Top Sider, something that we're more likely to see from Vans or Converse. But the brand did a great job in reviving memories of the Steven Spielberg movie , with pictures of the original cover showing up on a pair of slip-ons, boat shoes and on the insole of the other styles. For the Shark Attack slip ons they even wrote on the cork patterned insole -"No Swimming/ Hazarduos Area", another reminder of how the movie made us feel about beaches. As you can see in the picture above, the packaging is quite personalized also, with bloody color paper inside the box.
For the 2016 Sperry x Jaws Shoes Collection seven pairs were released, four for men and three for women, all pictured below. The Sperry Seacoast, Slip Ons and the Boat shoes re all included. As expected, these have been selling out quite fast but you can still try your luck at the links shown below.