When you click on links to various merchants on this site and make a purchase, this can result in this site earning a commission. Affiliate programs and affiliations include, but are not limited to, the eBay Partner Network.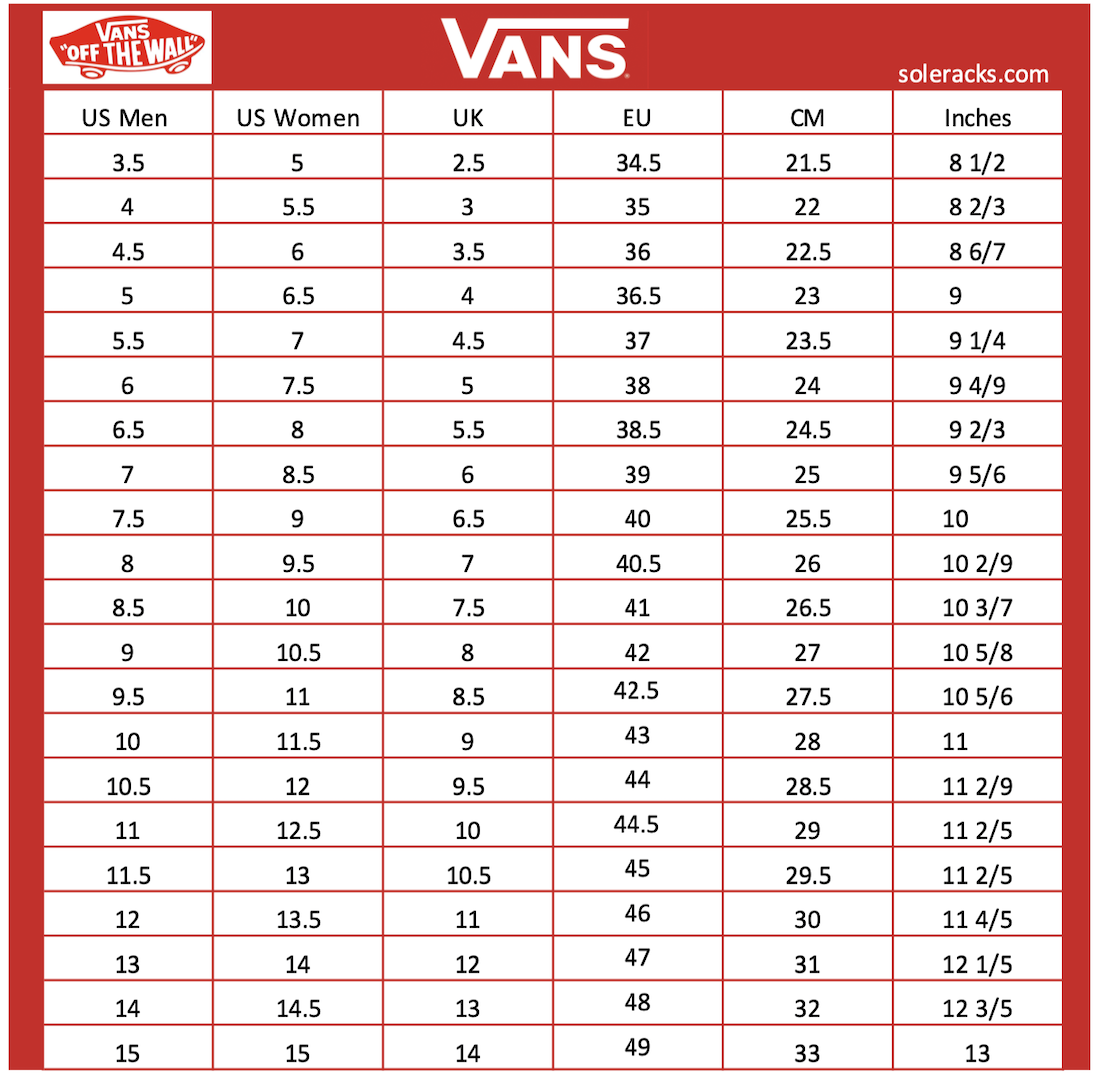 How do Vans shoes fit
When it comes to finding the perfect fit for your Vans shoes, understanding their individual sizing quirks is key to ensuring maximum comfort. Let's break down the fit of some popular Vans styles:
Vans Old Skool: These classics tend to run quite large, so it's wise to consider going half or even a full size smaller for an optimal fit.
Vans SK8-Hi: Similar to the Old Skool, the SK8-Hi also tends to run large, so opting for a half to a full size smaller is often recommended.
Vans Classic Slip-On: The Slip-On style fits snugly due to its laceless design. While it may initially feel a bit narrow, it quickly adapts to your foot's shape for a comfortable fit.
Vans Authentic: If you prefer a true-to-size fit, the Authentic is your go-to option. Simply order your regular size for a comfortable fit.
Vans Era: This skate shoe offers a slightly tighter fit, thanks to extra padding around the collar. If you plan on using them for everyday wear, considering a half size larger might be a good choice.
Vans Half Cab: These sneakers are also true to size but come with extra cushioning for added comfort during your adventures.
Vans SK8-Mid: Much like the SK8-Hi, the SK8-Mid runs quite large. Opting for a half to a full size smaller will help you find the perfect fit.
Vans vs Converse sizing 
When transitioning from Converse to Vans, it's essential to note the sizing differences between these two popular shoe brands. Many users have found that Converse tend to run half a size larger than their regular shoe size. So, if you wear a size 10 in Converse, you might want to consider trying a size 9.5 in Vans.
However, it's crucial to remember that foot width can play a significant role in sizing. Vans come in various widths, and individual preferences can vary. Some people with wider feet may still find their regular Converse size works in Vans, while others prefer going down a half or even a full size to achieve the perfect fit.
Vans vs Nike sizing 
When transitioning from Nike to Vans, it's important to consider the variations in sizing between these two renowned shoe brands. Sizing can be influenced by foot type and shoe style. As per some users' experiences:
For Nike running shoes, many find that they wear the same size in Vans Old Skool, Era, and Authentic models. However, they often opt for a half size smaller in Vans Slip-On and Sk8-Hi styles.
Nike SB Dunks and Vans have distinct fits. For example, one user wears a 10.5 in Nike SB dunks and a 10 in various Vans styles like Slip-On, Old Skool, and Sk8-Hi. However, they suggest that the AVE model might require a 10.5 because it feels slightly tighter.
Vans vs Adidas sizing 
When it comes to comparing Vans and Adidas sizing, there are notable differences to consider. Generally, Vans are known to have a slightly larger fit, with many users finding they can wear the same size in Vans as they do in other brands like Adidas. However, individual preferences and foot shape play a significant role. Some might find that certain Vans styles, like the Slip-On or SK8-Hi, require a half size smaller for the perfect fit.
In contrast, Adidas sizing tends to be more consistent across various styles, making it easier for customers to rely on their regular size. Still, it's wise to consult specific sizing charts provided by each brand and, if possible, try on the shoes in-store to ensure a comfortable fit. Ultimately, whether you prefer Vans or Adidas, understanding their unique sizing nuances is essential to finding the ideal fit for your feet.