This post contains links to our affiliates. We may receive a share of the sale if you purchase from the links below.
When it comes to retro sneakers, the adidas Superstar has earn its place among the most popular ones with its classic look but also with various special editions released by the brand over the years. Initially released in 1969 as a low top basketball shoe, this style quickly became very popular among NBA players and soon after a street icon. Decades later, the adidas Superstar is still going strong, winning the hearts of new generations with new editions enriched by endorsements of famous designers, singers or athletes. The Superstar among the most popular classics from adidas, a group that include the Stan Smith, Samoa, Grand Prix, Dragon, just to name a few. The sneaker is part of the shelltoe family that also includes the Pro Model and Proshell, both regarded by many as a twist of their more popular sibling. 
2015- adidas Superstar XENO
Early in 2015 Adidas released the Xeno Pack, featuring the Superstar, ZX Flux and Metro Attitude in a all new upper material named Xeno that has the ability to reflect a iredescent effect when exposed to direct light. This technology was inspired from a snake found in Southeast Asia, named Xenopeltis. It's safe to say that this is one of the most remarkable makeovers of the adidas Superstar, one that keeps the original silhouette while giving it a futuristic look. Originally there were 2 versions released in black and grey, followed by a red and navy versions later in the year. On a time when reflective shoes are so popular, the adidas Superstar Xeno stands out with a unique look.
2015- adidas Superstar Jeremy Scott Wings Special Edition
In 2008 Adidas started a collaboration with with fashion designer Jeremy Scott, well known for his wild designs. This collaboration brought some one of a kind editions of adidas classics customized with bears, moneys or wings among others that fans either loved or hated. In 2011 the Superstar "Ripple" was released featuring gold polka dots, a Jeremy Scott signature detail. However, it wasn't until 2015 that the adidas Superstar "Wings" edition was released in its OG colorway with the famous wings attached to the classic shelltoe, giving the iconic silhouette a distinctive, modern look.
2015 - adidas Superstar "Supercolor" by Pharrell Williams
One of the most anticipated collections in 2015 was, without a doubt, the "Supercolor" adidas Superstar pack by Pharrel Williams. Adidas has partnered with the renowned artist to celebrate 45 years since the Superstar was first released. This huge collection is made up from 50 monochrome pairs in as many colors, making it easy for everyone to find their favorite shade. As Pharrell Williams put it -
"SUPERCOLOR IS A CELEBRATION OF EQUALITY THROUGH DIVERSITY. WITH 50 COLORS OF THE SUPERSTAR, EVERYBODY WILL BE ABLE TO SELECT HIS OR HER COLOR. IT IS MORE DIVERSE THAN ANY PACK EVER BEFORE AND THEREFORE IT IS MORE INDIVIDUAL THAN ANY PACK EVER BEFORE…WITH EVERY SHOE TREATED EXACTLY THE SAME, ALL COLORS ARE EQUAL. NO MATTER WHAT COLOR YOU CHOOSE, YOU CAN BE PART OF SUPERCOLOR. CHOOSE YOUR COLOR." – PHARRELL WILLIAMS
2015- adidas Superstar Star Wars
With the highly anticipated release of the 7th episode of the film franchise in sight, adidas has introduced in 2015 a customizable series of Superstar 80's along with the ZX Flux Star Wars collection. Fans of the movie could customize their favorite pair at mi adidas, having to choose from a variety of pattern, colors, lace-locks and special molds featuring favorite characters such as Darth Vader or the Stormtroopers. It's safe to say that the Star Wars franchise has prepared quite well for the "Force Awakens" episode due to release at the end of the year with collections such as this one or the Vans Star Wars one.
2015 -adidas Superstar Consortium Superstar Bape x Undefeated
As part of their effort in 2015 to revamp the popularity of the Superstar, Adidas Consortium has re-aligned with two of their previous partners -Bape and Undefeated to create some exclusive looks for the classic silhouette. There were two releases of this trio, one in the spring and the other in the fall. If the first one had the signature Bape camo pattern only on the heel, sockliner and tongue, later that year the next two pairs were the opposite, with all upper camo and contrast black stripes. Both times the Superstar colorway were black and blue, all pair having on display in gold the logos of the Japanese fashion label and the LA fashion boutique. This was the third time the trio was at work, after the release of the adidas Campus ZX 5000 in 2013. The 2015 edition is regarded by many as the best adidas Superstar special edition ever released.
2015 - adidas Superstar "Respect Your Roots" Special Edition
Year 2015 was big one for the adidas Superstar special editions and one of the first collection was the "Respect Your Roots" , dedicated to four skateboarding pioneers who made the Superstar part of this popular sport.Kareem Campbell, Joey Bast, Drake Jones and Richard Angelides were each honored with a pair of customized Superstars with their name engraved on it. Along with the sneaker series adidas released corresponding graphic tees to pay tribute to each skater.Special events were held in Los Angeles and San Francisco were the four skaters were scheduled to attend.
2013 -adidas Superstar 80's Derrek Rose Special Edition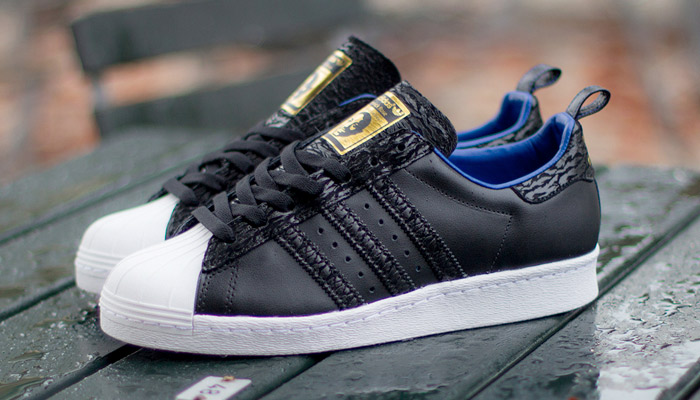 Adidas has started their collaboration in 2010 with the NBA superstar Derrek Rose when they introduced the AdiZero Rose 1, the first signature shoe of the many to follow. In 2013 the brand celebrated the Chicago Bull's player 's 25th birthday with an adidas Superstar special edition in his favorite colors, black and blue with a classic gold portrait tongue. and contrast white sole. Also, on the back of the shoe his birth year 1988 is displayed in blue color.
 2013 - adidas Influencer Collection
In 2013 Adidas reached out to artist all over the world to put their artistic touch on their adidas Superstar. This move resulted in some interesting collaborations with Asian musicians such as Show Ayanocozey, Kyary Pamyu Pamyu and Ilmari of Rip Slyme. These adidas Superstar special editions have a one of a kind look, with studs added in various places, bringing creative new twists this style's features that you can see in the pictures above. In addition to the designs, all pairs feature an accented tongue pull and a lux satin inner liner and  a mix of glossy and matte upper finishes.
2013 - adidas Superstar "Year Of The Snake" Special Edition