When you click on links to various merchants on this site and make a purchase, this can result in this site earning a commission. Affiliate programs and affiliations include, but are not limited to, the eBay Partner Network.
With the back to school season just around the corner, it's that time to get your kids prepared with some new shoes to match their attire. Given how many choices are on the market nowadays, picking the best shoes for school is no longer that easy. Since we have quite a bit of expertise in the matter we thought to line up some essential models for you for every level, in preschool, grade school and high school. Many of the sneakers on our list have sizes for all ages and they are for both boys and girls. When we came up with this list we had in mind three aspects: comfort, versatility and durability. Everyone wants their kids to feel comfortable and stylish in school but when you get a pair you also want to last for a while and be able to wear it in class but also for athletic activities. The school shoes we selected meet all that criteria and more; there are at least a few for every budget. While the high top sneakers seem to be more popular during the fall we included many of the low tops, especially since they feature leather upper. 
Best Shoes For Boys In Preschool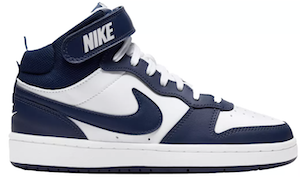 Nike Court Borough
Retail Price: $69-$75
Age: Preschool
The Nike Court Borough is a retro inspired sneaker that has versions for boys and girls in hi and low tops. It is an affordable shoe that is also very durable. We picked it as perfect shoes for boys in preschool for this reason as boys tend to get "dirty" and kick a ball a lot more than girls. They are easy to take on and off with the upper strap, no need for kids to bother with laces. Bigger sizes are also available so you can even have these for kids in 1st and 2nd grade.
Best Shoes For Girls In Preschool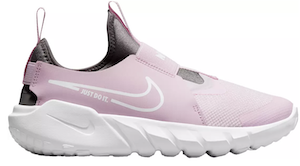 Nike Flex Runner 2
Retail Price: $49
Age: Preschool – Grade School
The Flex Runner 2 is a recent sneaker Nike released just a year ago in girls and boys sizes. It is a lightweight, easy shoe to take on and off with a modern, stylish silhouette. They are not as durable as most shoes for school on our list but they are so practical we could not resist adding them on. Wherever classes you'll go after school your kid will come in very handy.Given their looks and the colorways available we think they are the best shoes for girls in preschool.
Most Comfortable Shoes For Preschool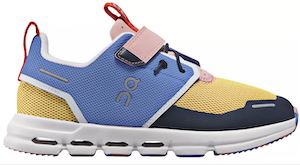 On Cloud Play
Retail Price: $100
Age: Preschool
The On Cloud Play is a brand new, unisex shoe for kids in preschool and first and second grade. If you don't mind paying $100 for a pair of shoes for your schooler these are the ultimate comfort sneakers for this age.  They feature the Cloudtec midsole that will add extra cushion and spring to your kid's every step. They are also built to last so you'll likely end up having the smaller sibling wear them as well.  
Best Shoes For Girls in Grade School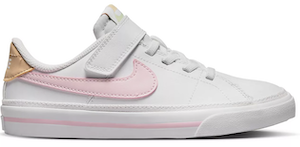 Nike Court Legacy
Retail Price: $45
Age: Preschool – Grade School – High School
The Nike Court Legacy is another recent model from Nike introduced a couple of years ago. It is catered for both girls and boys of all ages. The regular model features a lacing system but some versions for smaller kids also have a strap for easy on and off. They have a slightly slimmer silhouette and light colorways which made us pick it as the best shoes for girls in grade school. They do work great for boys as well all the way to teenagers in case you're looking for an affordable shoe. 
Best Shoes For Boys in Grade School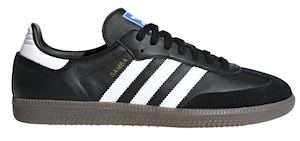 adidas Samba
Retail Price: $100
Age: Grade School – High School
One of the true retros on this list is the adidas Samba which also is the most affordable. It was originally made for indoor soccer and even if they became more of a lifestyle shoe over time they are still one of the most practical retros on the market today. Sizing is available for all ages, boys and girls. We picked them as the best shoes for boys in grade school as they are very solid and versatile for kids who like to play some soccer in school among other things.