This post contains links to our affiliates. We may receive a share of the sale if you purchase from the links below.
adidas Proshell Is Making A Comeback This Summer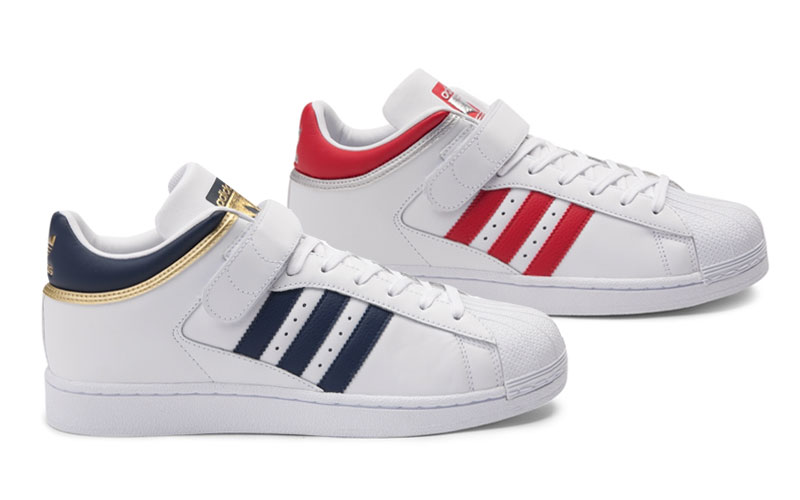 In an unexpected move the adidas Proshell will be making a comeback this summer with two classic colorways. This shoe was first introduced in 1984, being the mid version of the more popular Superstar and Pro Model. It was launched at a time when RUN DMC were making the Superstar famous and the shelltoe was becoming a symbol for lifestyle sneakers. While not as popular as the other two in this series, it was part of several Consortium projects in the past decade. Collections such as the "Tabula Rasa" in 2011 and "Your Story" in 2012 reminded everyone about the cool looks on this shoe. Its design was already a twist of a more popular model so it was easy to see it as part of special editions made by adidas over the years.
The adidas Proshell distinct itself from its siblings with the mid-top silhouette, a velcro strap and the padded collar. The sole features the classic shelltoe along with the rubber midsole and herringbone pattern. It has a removable EVA insole as most of the sneakers of its era. It also features branding on the tongue and heel patch, aside of the traditional side stripes. With its leather construction and ankle reinforcements this is a solid shoe that many have been used it for skating, going beyond its basketball roots.
For this new release there are two versions to choose from, one with navy , gold and white and the other in white, silver and red. The adidas Proshell will be released on June 29th but you can pre-order your pair today. The retail price is $95 and you get free shipping. Check out the link below for more pictures and purchase options.
Price: $94.99
---