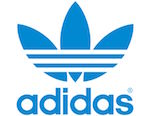 If you are looking for a pair of Adidas Originals retro shoes to wear this year there are quite a few options to look at. Ever since the early '60 when they came out with the Superstar, the German brand has been a leader on the footwear market and
The adidas shoes have been a staple of the footwear market for decades and continue to make a mark with constant new sneaker releases. The brand has its origins in Germany being founded in 1949 by Adolf Dassler. This was only a year after his brother, Rudolf came up with the Puma brand. Being one of the oldest footwear brands, Adidas is being regarded as one of the pioneers in the sneaker market. The Superstar , the Gazelle , the Forum , the Top Ten , the ZX 750 or the Campus are only some of classic sneakers from the 70's that still go strong today. Adidas was also one of the first brands to have athletes own featured shoes like the Stan Smith , Rod Laver or the Nastase, some of the greatest in the tennis world. Fast forward in the 21st century the brand has added to their retro line new sneakers with modern technologies like the BOOST midsole that is known to be one of the most comfortable on the market.  Since it's been introduced it was used on countless styles like the NMD R1 , the Retropy E5 or the Nite Jogger. The UltraBOOST is a running shoe preferred by many athletes while the Yeezy 350 V2 is a lifestyle sneaker that sells out within minutes of its release. The upper construction of the more modern sneakers have changed a lot to keep in touch with the trends. The brand now uses seamless upper in often sock-like designs. However, the retro sneakers with traditional leather and mesh construction remain one of the best selling lines for the brand. As with the other big footwear companies adidas has been coming up with countless new styles inspired from their retros with the Multix and the Retropy F2 being two of the more recent ones. Recently adidas acquired Reebok and expanded its market share. After Nike , adidas is the brand with most shoes sold on the US market. If unsure about your adidas shoes size you can check out a size chart here. 
The adidas shoes have kept their relevance in a very competitive market for a good reason, with quality materials and dashing designs that catch the eye. Look for the latest sneakers releases from adidas on this page along with reviews and featured styles. While sold out in stores or online, many of these can still be found on eBay where they are authenticated by specialists before getting to you.