This post contains links to our affiliates. We may receive a share of the sale if you purchase from the links below.
Nike SneakerBoot Collection 2016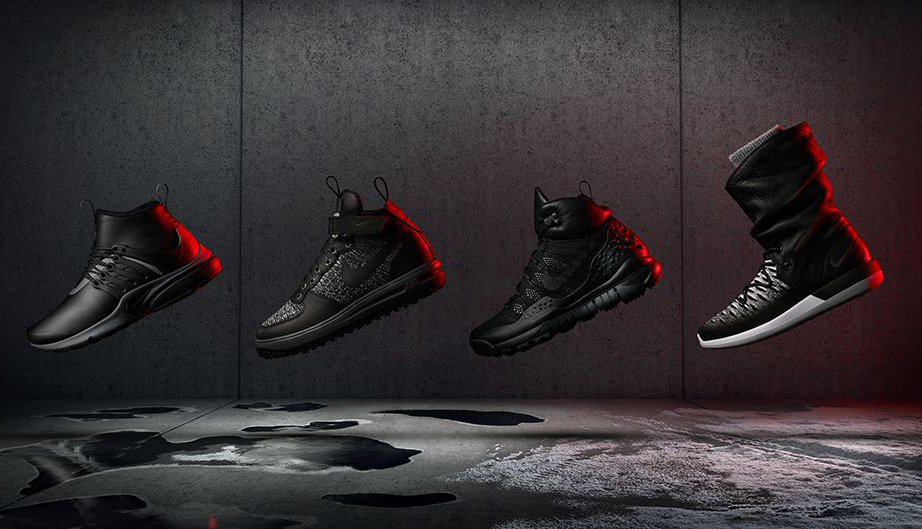 Photos: Nike
Fall season is about to start and, as expected, Nike has prepared a new sneakerboot collection for the 2016-2017 season. Nike has been at it for several years now, year after year getting some of their most popular sneakers ready for the cooler weather ahead. As with the previous collections, the popular models got a hi top silhouette look with modified uppers and sole to stand up to cold and wet conditions.  
The Nike Sneakerboot Collection 2016 includes some new names such as the Force 1 Flyknit Workboot, the Lupinek Flyknit, the Roshe Two Hi Flyknit and the Presto Mid Utility. Most of these are available in both men's and women's versions. A notable feature these sneakerboots have is the new water-resistant Flyknit material used on some of the models. We are used to see it on so many snakeakers or running shoes, it will be interesting to wear it in the winter. Unsurprisingly, the dominant color of this 2016 collection is black, with some grey and white accents.
The Nike Sneakerboot Collection 2016 is scheduled to hit stores on November 3rd, with a retail price tag ranging from $140-$250.